Straw Bale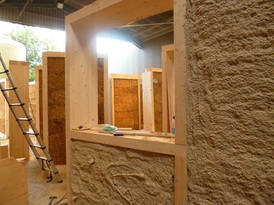 We built the houses using ModCell, a company which has developed a low-carbon modern method of construction with locally sourced straw and timber using super-insulated, prefabricated wall panels. In contrast to a conventionally built home which produces around 50 tonnes of CO2 during its construction, a home built using straw bale as insulation can actually store 12.25 tonnes of CO2!
Passive Solar

The insulating materials and design of the buildings combine to store solar heat in the winter and reject solar heat in the summer, thus reducing the need to input heating energy.
Sharing
We consider the environmental impact of our daily activities, for instance through car sharing; pooling equipment and tools; sharing meals twice a week; and looking to the local area to provide as many needs as possible. Growing food on our allotments means we eat as locally as physically possible!